studioAC's everden housing is a contemporary stack of traditional homes
inspired by tradition
StudioAC unveils a trio of stacked volumes that together take the form of the Everden single-family home in Toronto. The house presents a 'place of refuge' for a growing family that is unique to its owners – the architecture is 'unabashedly contemporary' while drawing inspiration from the traditional view of 'home'. The resulting three-storey dwelling therefore reads like a stack of boxes that express the motif of "home" through volumes, openings and through interiors.
images by photo doublespace | @2spacephoto
a gable roof for all levels
StudioAC architects drew on the familiar gable roof motif as a visual and spatial device throughout his Everden home. The band notes: 'we were interested in elevating this phenomenon beyond the pattern to a spatial experience that defined a narrative throughout the project.'
While the tallest volume on the third level shows off its gabled roofline, the ground floor cubical box is open with a similar gable extrusion, giving that peaked roofline across the living spaces. shared. The group continues: 'This combined a planometric and material direction that would emphasize three-dimensional stacking and staggering that plays with the definition between form, space, and pattern..'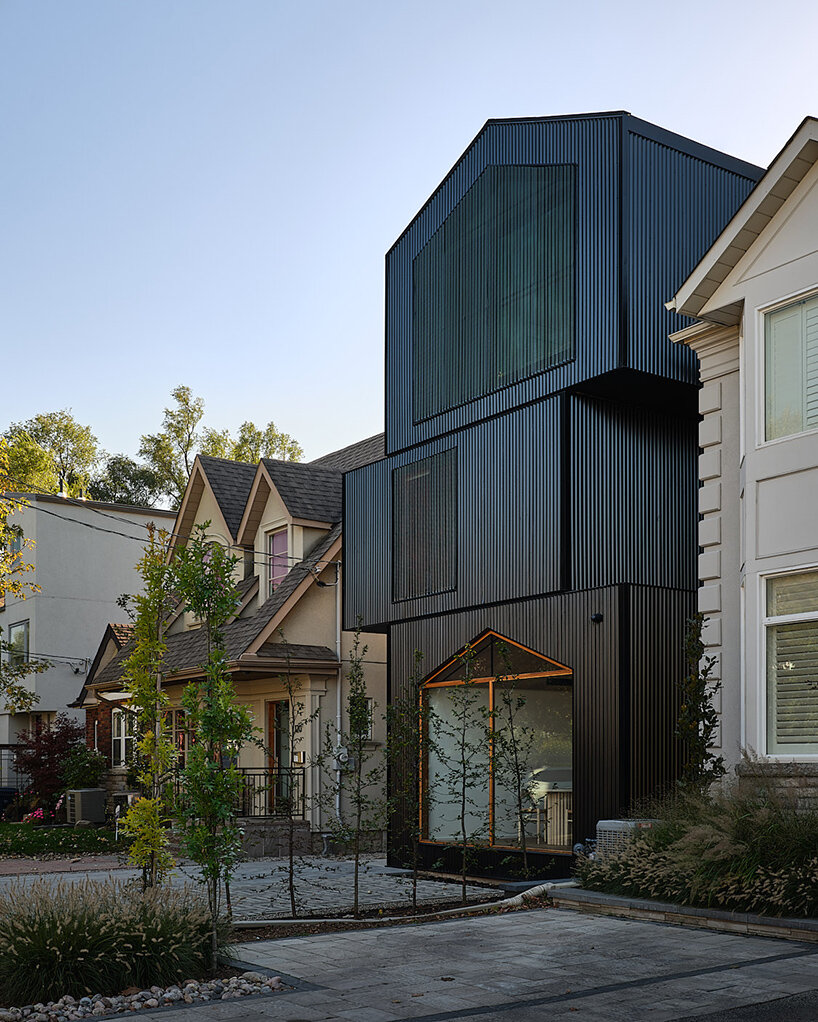 the thoughtful materiality of house everden
StudioAC organizes its Everden home with flexible material expression that is both impactful and modest. The exterior is wrapped in corrugated iron, a durable, affordable and familiar material. The team elevates this facade through "accurate detailing on levels and parapets to create the illusion of stacked boxes." Meanwhile, the interior focuses on its peaked ceiling landscape. With such an impactful spatial condition, the material palette allows itself to become secondary, and therefore profitable.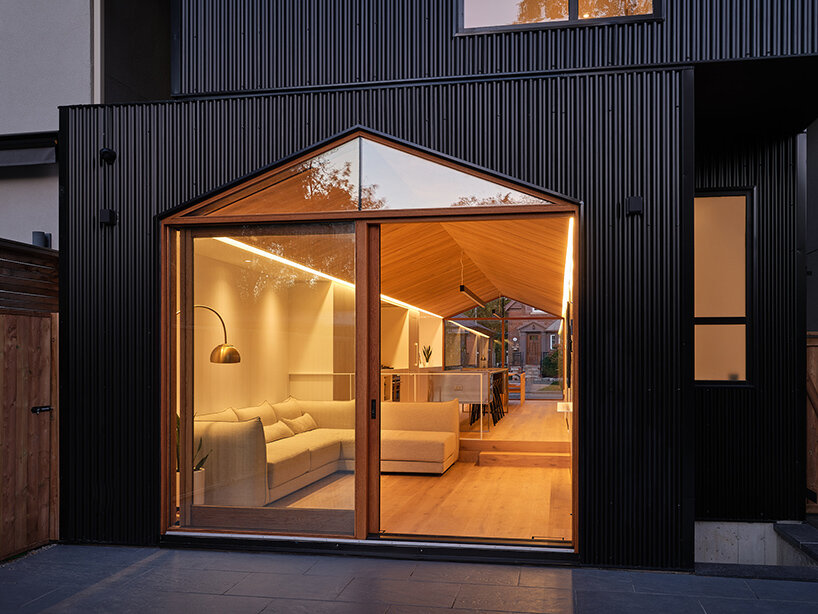 the everden house design
The StudioAC team describes the spirit of the project: 'The Everden House is a playful yet serious exploration of theme, motif and spatial experience. The project seeks to straddle the fine line between academic and exploratory architecture while remaining livable, usable and timeless.
'This has been a trajectory in StudioAC design thinking, particularly in terms of developing a spatial logic that transcends typical expectations and seeks to allow the program to define volume.'