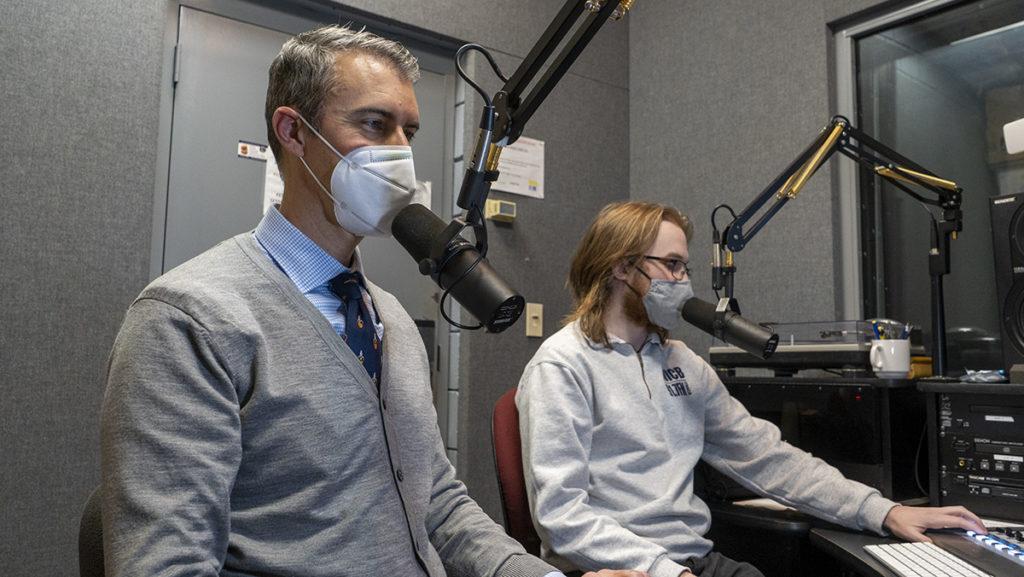 Q&A: IC Visiting Professor Hosts New Analytics Podcast
Chris Holmes, associate professor and head of the Department of English Literatures, recently appeared as a guest speaker on a podcast called Novel Dialogue.
The podcast was created by John Plotz, Professor of hacademics at Brandeis University, as well as Aarthi Vadde, Associate Professor of English at Duke University. Plotz and Vadde created the podcast for the Society for Novel Studies, an international academic organization of people who study and discuss the novel.
Now in its third season, Novel Dialogue invites a novelist and literary critic to analyze the novels from the perspective of readers, the author himself, publishers and others. Podcast episodes are 40 minutes to an hour long and aim to engage in lively, fun, and sophisticated conversations that examine novel writing and consider the influence of characters, plots, and stories on how people think the world.
Additionally, junior television and radio specialist Connor Hibbard will serve as Novel Dialogue's audio editor in the fall of 2022. Holmes himself recommended Hibbard for the job.
Both Holmes and Hibbard have worked on their own personal podcasts in the past. Holmes launched her Burned by Books podcast at the start of the pandemic to stay involved in her passion. Holmes and Hibbard hope to bring what they've learned from their own experience to Novel Dialogue.
Novel Dialogue can be heard on Apple Podcast, Spotify and Stitcher.
Writer Jaydn Davis spoke with Holmes about his involvement with the podcast.
This interview has been edited for length and clarity.
Jadyn Davis: How did you get involved in Novel Dialogue?
Chris Holmes: I created a podcast called Burned by Books during lockdown, and it was a book interview podcast. An academic who is one of the founders of Novel Dialogue, Aarthi Vadde, contacted me and asked if I would be interested in becoming a guest host. At that point, I probably did 30 or 40 episodes of my own podcast, so at that point it made sense to me that I knew enough about my own podcast to participate.
… Novel Dialogue is a pretty unique podcast, as it features a host and reviewer in conversation with a novelist… I just released the episode I host for this season, which is with Booker Prize winner Damon Galgut This year . He is a South African writer.
JD: Who was your favorite guest that you interviewed or listened to?
CH:​​ Before being a guest host, there was an interview with Jennifer Egan. She's a Pulitzer Prize winner–winning novelist, and I thought she was amazing. Obviously the episode I just did with Damon Galgut is also one of my favorites, because he's one of my favorite South African writers.
JD: As a guest host, what is your job at the podcast?
CH: So my job as a guest host is to work with the star reviewer ahead of time and come up with a series of questions to ask the novelist. I then ask to follow–asking questions and keeping the conversation flowing, so I'm kind of like a director as much as I'm part of the interview. After the interview, I was part of the editorial process.
JD: Could you explain the editorial process to us?
CH: The lead editor, soon to be Connor, will send me a first sound edit of the recording, and I'll go through and listen and make cuts to content that we could get rid of, or content that I didn't think no need to be there. I would find funny vocal takes or moments with background noise, and I would give those notes to the editor. Then several people listen and make cuts to reduce the episode to about 40 minutes.
JD: Why did you recommend Connor to work as an audio editor?
CH: I really admire Connor's multiple podcasts, and they've been a good model for me on how to make a compact, talk-based show.
JD: What was the best part of working on Novel Dialogue?
CH: A whole team works on each episode. It's so different from my own podcast, where I do everything and all the work I do is my fault or my problem. Working with a group is really fun, so being part of that team is a really satisfying part of my job now.