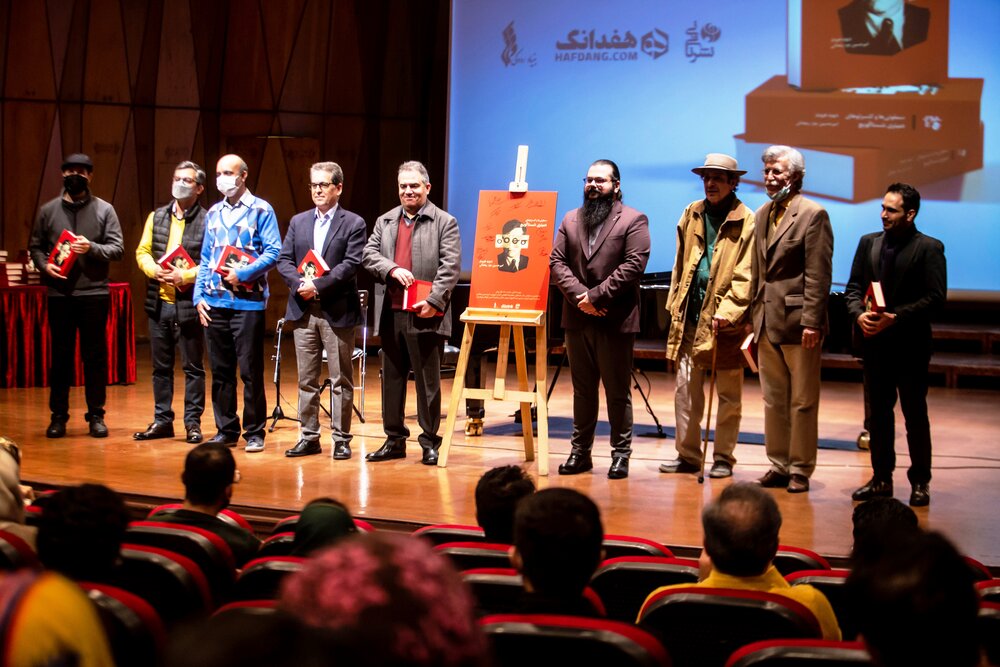 Publication of joint studies by Iranian and American academics on Russian composer Dmitry Shostakovich
TEHRAN – A book presenting joint studies by Iranian scholar Amir-Hossein Ramezani and American music critic and author David Hurwitz has been published.
Ramezani and a large number of academics and musicians, including Nader Mashayekhi, attended a ceremony on Friday evening at Rudaki Hall in Tehran to present the book "Shostakovich Symphonies and Concertos".
A book of the same title by Hurwitz was published in 2006.
Speaking at the ceremony, Ramezani said: "As a student, when I was studying at the Iranian Academy of Music, I was given the task of researching Shostakovich's Symphony 1.
"It was amazing that someone could have composed such a great symphony when I was 18, and at that point I wondered if I could do the same at 18. Obviously, that didn't happen, but it was the first time I had learned something about Shostakovich, "he added.
Ramezani said his desire to study on Shostakovich grew when he read Hurwitz's book on the Soviet-era composer and pianist. He was really convinced that the materials of Hurwitz's book of about 250 pages could be developed.
The idea of ​​expanding the book was warmly welcomed by Hurwitz, who also encouraged Ramezani to continue his studies on the subject.
"I also did a few interviews with Hurwitz for the book and the result is what was published in the 652 pages of the book," Ramezani said.
Examples of Shostakovich's symphonies and concertos on DVD were also offered with the book.
Former Tehran Symphony Orchestra conductor Mashayekhi also gave a speech and said that he awaits the publication of such a book in Iran and called "Shostakovich Symphonies and Concertos" one of the most important books published in the field of music in the country. .
"This book can familiarize us technically with the much larger dimensions of Shostakovich's artistic character," he noted.
"This book has attempted to analyze the marvelous character of Shostakovich from a political and social point of view; it also gives new perspectives on his personality, "he added.
The book was published by Naay-o-Ney in early October. The second edition will be released soon.
Shostakovich is considered one of the major composers of the 20th century, with a unique harmonic language and historical significance due to his years of work under Stalin.
His orchestral works include 15 symphonies and six concertos. His chamber compositions include 15 string quartets, a piano quintet, two piano trios and two pieces for string octet. His works for solo piano include two sonatas, a first set of preludes and a subsequent set of 24 preludes and fugues.
Hurwitz's book "Shostakovich Symphonies and Concertos: An Owner's Manual" was published on May 1, 2006, by Amadeus Press.
In this book, Hurwitz stated that the fall of the Soviet Empire did not diminish the popularity of Shostakovich's great symphonies and concertos, despite the fact that most of the literature on him neglects any substantive discussion of the music it – even for the benefit of biographical speculations on the relationship between the composer and the political climate of the time.
The book was the first to provide a detailed descriptive analysis of the 21 symphonies and concertos, work by work, explaining not only why they are important documents of their time and place, but why they are great music in general. It allows readers to understand why Shostakovich's music enjoys the constant support of performers and listeners, and how it generally fits into the great tradition of Western classical music.
Photo: Writer Amir-Hossein Ramezani (4th R), composers and music specialists attend a meeting at Rudaki Hall in Tehran on November 19, 2021, to present the book "Shostakovich Symphonies and Concertos".
MMS / YAW