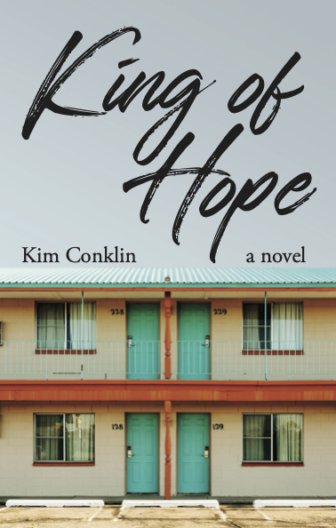 Ontario-set novel examines Great Lakes nuclear waste
NICOLINE BRADFORD
In her debut novel, "King of Hope," Michigan native Kim Conklin tells of a small community in southern Ontario facing the looming threat of environmental catastrophe.
Inspired by the true story of Port Hope, a community located on the shores of Lake Ontario in Southern Ontario, "King of Hope" follows four people who struggle to answer difficult questions about the environment and their place In this one.
Conklin describes the novel as "southern Ontario gothic with an environmental twist."
Southern Ontario Gothic is a subgenre of Southern Gothic practiced by William Faulkner, Flannery O'Connor and Eudora Welty, Conklin said.
It takes its name from its Southern Ontario setting and its gothic themes of secrecy, repression and horror that lurks below. Some notable works include "Alias ​​Grace" by Margaret Atwood and "Deptford" by Robertton Davies.
"It's often realistic, depicting a small town or quiet setting, with an underlying vibe of danger," Conklin said. "In 'King of Hope,' the danger is the radical environmental uncertainty the city has faced for generations."
This threat comes in the form of nuclear waste and willfully ignorant officials.
"They had a lot of hidden nuclear waste that was buried under schools and homes and they keep finding it from time to time," Conklin said. "Even after it was dug up, it remained covered in tarpaulins for years because there really was nowhere to store it."
The story relates to the looming issue of decommissioning nuclear facilities, which will soon be a reality for the Great Lakes region, Conklin said.
The environmental aspect also makes it a work of eco-fiction.
"Writers have been writing about nature forever," Conklin said. "Today, we must also face and reflect on our environmental challenges. And fiction is one of the ways people understand things in a new way. They experience the world through the eyes of a character, and it can help them see things a little differently.
"King of Hope" wasn't always intended to be a novel. Conklin's background is in screenwriting. But the story had other plans.
"It started as an image in my mind, an image of a young girl sunbathing on a lawn chair next to an empty pool while wearing a hazmat suit," Conklin said. "She was surrounded by other people in hazmat suits who were digging up some kind of trash. I was attracted by the absurdity of the image, and it stayed with me. At the time, I was writing screenplays, and at first I thought it would be a screenplay. But as I worked on the story, it turned into a novel.
It's her first novel, but Conklin has a long history of creative work. She started out as a writer and producer at a WJRT in Flint when she was still a teenager. She now lives in Windsor, Ontario and has since created several short films and stories.
Conklin is also one of the hosts of the literary podcast, All write in Sin City, based in the Detroit River area. Creative work has always been his calling.
"I don't think I ever seriously considered doing anything else," she said. "At least not long. I started getting a real estate license once, but never finished the course.
"King of Hope" depicts people torn between tradition, change, the past and an uncertain future. These are challenges that many of us face.
"The story alternates between sad and crazy and sometimes funny in the same way real life does," Conklin said. "In the story, people are deeply divided in what they believe and in their opinions on the right path to follow. Trying to figure out how to find the truth can be hard to do.
Conklin's goal is for the novel to be appreciated. But it also aims to help people reflect on their connection to nature.
"I hope reading about the characters of Port D'Espere and their struggles in the face of radical uncertainty will help people gain a clearer perspective of their own relationship to the world we find ourselves in," he said. she stated.
The novel was recently featured in CBC's fall preview as a book to look forward to in fall 2022. King of Hope is published by Palimpsest Press and is available at publisher's website and Barnes and Noble for $18.95 CDN / $17.95 US.