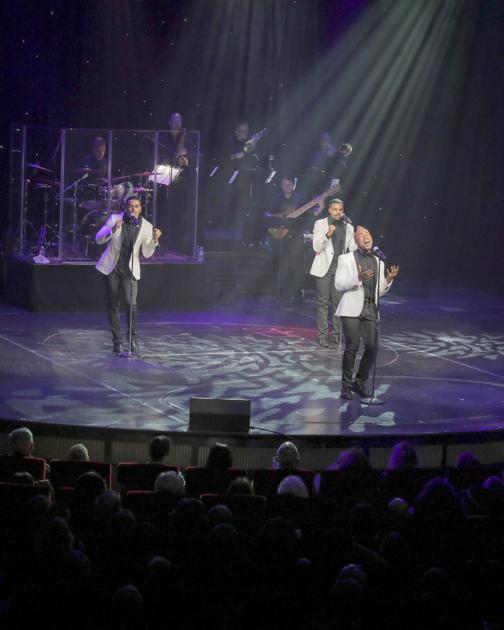 New York ensemble revisits 60s soul music | Lifestyles
PITTSBURG, Kan. – Imagine if temptations had never grown in importance in the late 1960s. What if, instead, the soul and R&B ensemble caught fire in 2021?
This is the concept behind a Motown vocals ensemble from the Big Apple called Uptown – the reincarnation of Temptations but with a voice close to Marvin Gaye and contemporary feel to Bruno Mars.
The idea for the group came to Broadway artist Joel Walker as he strolled past Harlem's Apollo Theater on West 125th Street in 2017.
"I saw there was a whole bunch of these legends that had all these bricks on the floor, right outside the theater – people like Stevie Wonder," Walker said in a recent phone interview. With the funk and soul music of the past buzzing through her head, "I wanted to create a contemporary show… using African American artists, featuring New York City… and that would be our take on what was essentially the music of our grandparents. "
In other words, Walker wanted to take the music of the 1960s and take it a few decades forward so his millennial peers could enjoy the sound, rhythm, and funk of it all.
"We definitely put our own touch to it; it has a very contemporary feel, "Walker said.
But not too much, he said. The band members have taken great care to ensure that the sound remains traditional enough for baby boomers to appreciate.
"The way I'm trying to explain it is this – (our music) is like you see the Temptations right now, like they've grown up as millennials," he said.
Flaunting their performances via cruise ships, the theater circuit and global audiences via NBC's "The X Factor" and "The Winner Is", they recently launched a special tour of the Midwest that includes a performance on Saturday, September 18 at Bicknell Family Center for the Arts on the campus of Pittsburg State University.
"I've never been to Kansas," said Walker, who grew up in Harlem. However, he's excited to bring part of this "big urban city" to more rural parts of the country, like southeastern Kansas. "I want to go to the Midwest – where there aren't that many people making music like that – it's really going to give people something new to experience."
The show is set for 7 p.m.
"What gives Uptown their edge is how unique their take on the classics is," Bicknell Center director Joe Firman said in a statement. "Their signature style can be seen in their choreography, arrangement and contemporary attack on their content – all curated by Uptown. "
Tickets for the concert, which are suitable for all ages, are now on sale for $ 25 each at the PSU box office, Garfield Weede Building, Room 137; by calling 620-235-4796; or by going online at https://bit.ly/384hDIg.
Walker said he hoped that by the end of the show, audience members "will go home feeling like they want to dance and they want to listen to this style of music." But what I really want people to feel is like they've felt something different, something they've never felt before, but like they've listened to it all their lives.
"If we can do it and if we can touch your heart a little bit, then we will certainly be happy. "