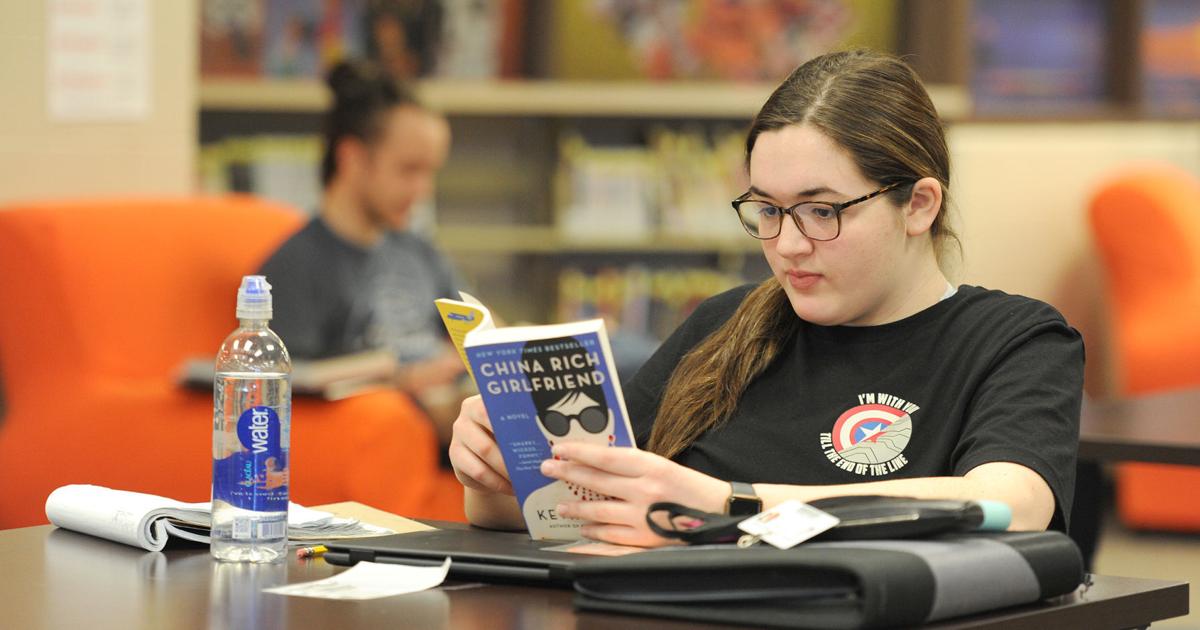 New Idea: Schools take a different approach with books | News
Students learn so much from great literature besides understanding a text, said Amy Bellamy, a literacy coach for the Owensboro Public Schools District.
Teachers understand the importance of providing students with books they can relate to, which is why they are so often used in every classroom, but especially at the secondary level, she said.
Using a novel to help teach a concept is not a new idea.
Educators are not reinventing the wheel; they take a different approach to doing this and celebrate what they can expose students to through literature. Novels are used as a base layer for lessons and they help students grasp difficult concepts, educators say.
"Students learn about the human experience and important concepts like empathy, motivation, compassion, and that our choices can have consequences," Bellamy said. "Books can tell us about significant historical events on a personal level by allowing us to see events through the eyes of a character we can relate to."
Books can also help us learn more about ourselves, she said.
OPS Kindergarten through Grade 8 students all share a common literacy curriculum. This has proven useful because it allows educators to work together to craft lessons that have a profound impact on students, she said.
The new curriculum places a strong emphasis on science and social studies texts to deepen students' knowledge in these areas.
It also provides support for teachers to ensure that every student receives the same instruction and the same complex texts, regardless of their skill level, she said.
Having equal access to the same books is an approach many school districts are now taking, said Daviess County Public Schools literacy instructional coach Angela Gunter.
In the past, it would have been possible to provide students of different levels of reading comprehension with alternative texts more suited to their level. Educators now meet students where they are and expose all students to the same books at the same time.
It can be difficult, Gunter said, because many students aren't able to read at grade level.
"Every child, no matter if they are struggling, should always have the opportunity to read the grade level text because it is rich and engaging," she said, adding that classic literature books are " the touchstone of our culture".
There are many things that go into choosing which books to use to teach students. Educators collaborate on plans and ideas and draw from approved reading lists from the Kentucky Department of Education.
Each school's site-based decision-making council ultimately approves the texts for students to read. Typically, at the start of each lesson, teachers review the outline of the lesson and what will be used to teach it.
These are often sent home for parents to read and provide an approving signature.
Parents or guardians sometimes engage with schools regarding specific books they find problematic for their child, and when this happens, school systems work with the parent to ensure their voice is heard and their concerns are being addressed, said OPS public information officer Jared Revlett.
"We're pretty open and transparent with families about what's going on in the classrooms," Revlett said. "We have an open dialogue with our families all the time. We encourage dialogue and problem solving rather than fighting through things. »
Gunter said the same for DCPS, and that if parents communicate with the school system that they are not comfortable with their child reading a text or participating in a particular lesson, that parent's position is honored and her concerns are respected.
No child is forced to read text that their parents don't want them exposed to, she said.
Educators want parents to be partners who work with them to educate children, she said.
Classes are a safe space for students to learn together, Gunter said, which is why it's important to encourage students to push the boundaries of their knowledge.
"Schools are microcosms of the community," she said. "Students need to talk, need to have intelligent conversations."
While banned books are an issue for some school districts across the country, local educators are happy to report that area students have equal access to books.
A bigger issue is struggling with students who struggle to read, an issue that has been more pronounced due to the pandemic, Gunter said.
According to the 2021 school report, about 30% of fourth graders and about 40% of eighth graders have a basic level in reading.
Research shows, Gunter said, that children learn 2,000 words a year.
"We don't teach as many vocabulary words per year; we just don't have that kind of time," Gunter said. "If 90% of children's vocabulary is acquired accidentally, it can become a problem."
Especially, she said, when students engage and learn from media like television, which caters to a fifth grade level.
This is why it is important to expose all students to complex ideas through books and literature.
DCPS is engaged in a learning collaboration that involves 75 of the district's educators, primarily those who are middle and high school teachers.
The collaboration aims to help high school educators learn how to teach reading skills to students who may need them. As high school teachers, they haven't spent a lot of time learning the basics of reading because ideally, when students reach them, they've already learned those foundational skills.
The collaboration is going well and Gunter said the hope is that all educators will eventually have the tools at their disposal to help all students engage in quality education, especially through reading.
Reading is the foundation from which all other education arises, she said.