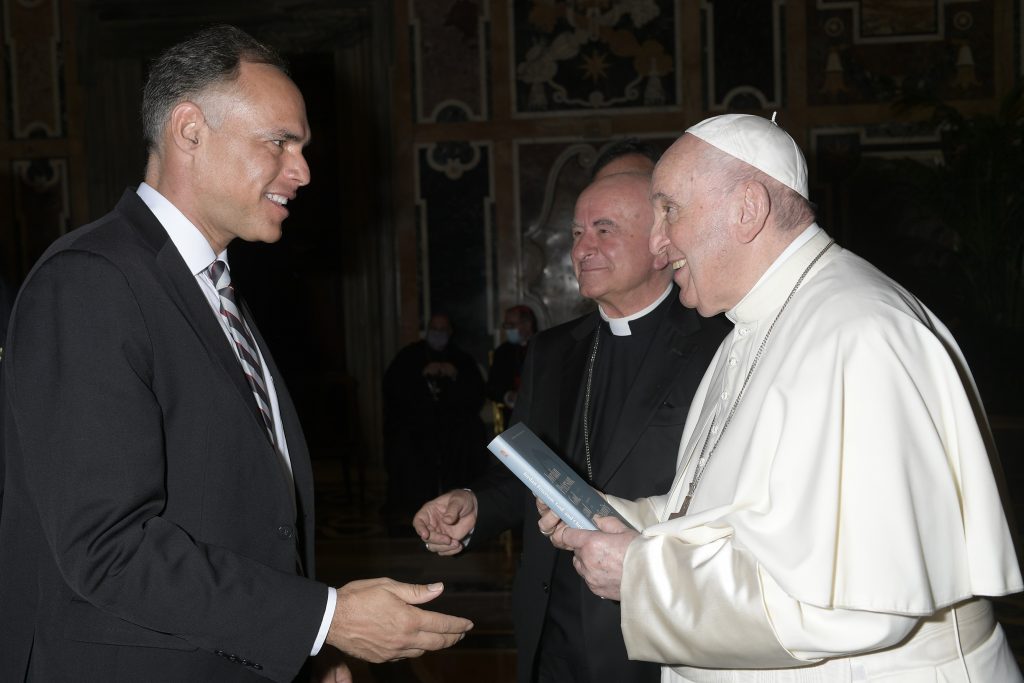 LMU professor gives Pope new book on Jordan Peterson
A local Catholic university professor was fortunate enough to present Pope Francis with a copy of his best-selling new book at a recent conference in Rome.
Dr Christopher Kaczor, professor of philosophy at Loyola Marymount University, met the pontiff during the three-day general assembly (September 27-29) of the Pontifical Academy for Life at the Vatican, of which Kaczor has been a member since 2015.
At the end of the pope's speech on September 27, Francis greeted each of the conference participants.
"When my turn came to meet him, I shook his hand and asked him to pray for my family," Kaczor, who is married and has children, told Angelus.
Kaczor then gave the Pope a copy of "Jordan Peterson, God and Christianity: In Search of a Meaningful LifeWrites with his colleague from LMU, Dr Matthew Petrusek, professor of theology and Catholic colleague. The book, published by the Word on Fire Institute, begins with a preface by Bishop Robert Barron, Auxiliary Bishop of Los Angeles and founder of Word on fire.
Since its release in July, the book analyzing the role of the folk psychology professor and lecturer in reintroducing God and the Bible into today's secular culture has reached the top ten of "Religious Studies – Psychology"List of the best-selling books on Amazon.
At the same meeting, Pope Francis made headlines for criticizing abortion and euthanasia because of a "throwaway culture" that victimizes children and the elderly.
"There is the rejection of children who we do not want to welcome with the abortion law which sends them to the dispatcher and kills them directly. And today, it has become a "normal" method, a practice that is very ugly. It really is murder, "Pope Francis said in his speech.
The Pope added that abortion and euthanasia "deny hope" by denying "the hope of children who bring us the life that allows us to continue and the hope that lies in the roots that people give us. elderly ".
The pontiff reiterated that such practices were incompatible with the mission of Catholic universities or hospitals.
"This is a road we cannot go on: the road of rejection," he said.
Additional reporting courtesy of the Catholic News Agency.