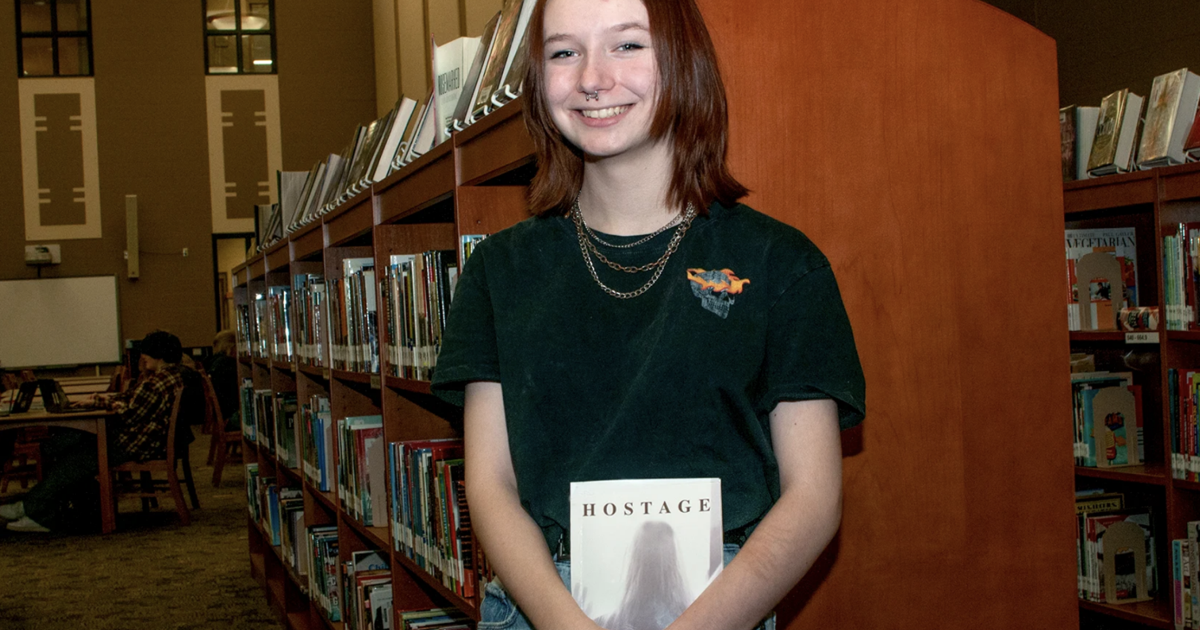 'Hostage' hits shelves as high school releases first novel | News
Samantha Gibson, a 17-year-old student from New Richmond High School, has published her first novel, "Hostage," in February.
Gibson, who goes by the name Sam, started writing horror stories in elementary school.
"My teacher told me that I was too young to write about this stuff because I would write horror stories. So I kind of stopped writing. I started writing again in middle school and that's when a teacher noticed that I liked to write, so she invited me to go to Bethel University to attend a conference for young writers," Gibson said.
At the conference, she met a few authors and met other aspiring writers.
"That's when I discovered Sigma's library," she said. "They explained the writing business and what they do, how they do it and how they got started."
The writing appealed to Gibson, so she stuck to it. She began working on "Hostage" her freshman year, writing mostly during school hours. She credits her English teacher and now creative writing teacher Deena Zauft for stepping up and mentoring her.
"Ms. Zauft is my creative writing teacher at the moment. She has been a great help to me, especially with my book"Hostage." I had it for all three years in high school, and I'll probably have it next year too. She has been a very good help not only with my book but also with my mental health. She's been there for me," Gibson said.
Gibson completed "Hotage" its second year and released it this year, its first year, thanks to The Sigma librarya publishing house dedicated to the publication of young authors aged 12 to 19.
"When I decided to publish my book, I remembered Sigma from Bethel University.
I had saved all of Bethel's information just in case," Gibson said. "I emailed them that I was interested in sending them one of my books, sent in my manuscript, and we went back and forth from there."
Here is the synopsis of "Hostage" excerpt from Sigma's press release:
High school is hard enough without the constant barrage of people pretending to be your friend because your dad is rich, but that's the reality that 17-year-old Serina Ange faces every day. After an exhausting day at school, she is on her way home when a masked man appears out of nowhere and kidnaps her. Serina's first thought when she wakes up in a strange place is that she's been taken for her father's money, but was that really the kidnapper's motivation? As the days and weeks pass, Serina comes into conflict with the relationship she has formed with her captor. Meanwhile, some kids at school are getting closer and closer to figuring out what happened to him and mounting a rescue. What if she doesn't want to be saved?
Gibson recently spoke with the Star-Observer and his book and his love of writing.
Why do you like to write?
I've always had a creative mind since I was younger, and I guess writing is a way to get those creative ideas out and share them with other people. I am currently working on a non-fiction book titled "Dear Diary 2020-2022about people's thoughts and disturbing passages. Most of them are mine, but writing helps me express a lot of my feelings that I have locked away, much like journaling.
Are you an organized writer?
"I'm not really organized, no. I don't really have a plan for anything. When I write, I usually write whatever comes to mind. So one chapter at a time until I got closer to the end of the book, and I knew I had to come up with some sort of conclusion. I did a little more planning then just to get an ending. Usually when I write an idea in my notebook, I transfer it to my phone and online, because that's where I write my books on Google docs.
Did you write more than one ending for "Hostage?"
Yes, yes I did. I made the final decision with a little help from my peer Alex. We don't talk much now, but he's been a huge help.
What triggers your ideas?
Music videos. ICT Tac. I'll scroll through Tiktok and sometimes these actor videos or POV videos pop up and I'm like, "Oh, that might be a good idea." I have my own Tiktok, so I sometimes comment on other people's views when I think it might be a good idea. I will ask permission if I really want to write this idea into a book. This book that I am writing is called "obsessed with you", was actually from one of these TicToks.
Are any of the characters in "Hotage" based on real people?
"Some of them, yes. Maybe one of them would recognize themselves in the class chapter. He was talking about how he nearly set himself on fire by sticking a fork in a socket or something. So if he's reading it, it might be like "Oh that's me, I did that."
Is that you on the cover?
I thought it would be cool to do my own cover plus Zauft is a photographer. She edited it and she also did my headshot on the back of the book.
Are you working on more than one book at a time?
I was working on a few other books at the same time as I was working on "Hostage". I was working on "Dear Diary" a bit at that time. "Their life after death and "A kiss that kills were also some of the books I was working on.
How did you come up with the title "Hostage?"
Sometimes I'll write the first chapter, and think of a title after I've thought of a little outline of what the rest of the book might be. The title may or may not change depending on what I write in the next chapters.
I don't think Hostage had a name for a while until I figured out Stockholm Syndrome was a thing and then I was like, "Oh, "Hostageis kind of a good title.
Have you encountered "writer's block" and how did you solve it?
One of the chapters is actually based on one of our courses that took place here in New Richmond. I really didn't know what to write. how to continue this story. So for my study hall, I went to this science class with Mrs. Swanson, and I asked if I could base my chapter on her class and she said, "Yeah. That would be good."
So the whole chapter is about the class of this character Mariah. I wrote about every detail that happened in that class, the students in the back playing with their pants, every word the teacher said. I wrote it, word for word. I'm a fairly quick typist so I could follow the lecture.
So the class that I wrote about, I kind of shaped it to fit into the book and put my fictional character in that class. Funny thing is, I actually have the science notes in the book that were on the smart board for that class.
Is there a moral to the story or a hidden message in "Hostage?"
I don't want to say what it is because that would be a spoiler, but there is some supernatural stuff in there and in book two it will explain more. Yes, there is a book two. It will be a series of three books. When I got to the conclusion of Hostage I knew I had more to say, especially with all the supernatural stuff going on, I wanted to say more. In book two, I will change my perspective.
I know readers are probably going to have a lot of questions, which was also expected. I want them to have lots of questions, to hang on a cliff, so they'll be excited to read the second book to answer their questions.