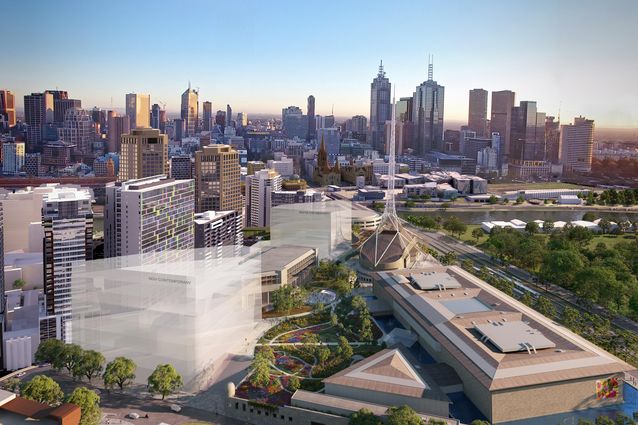 Four preselected teams in the NGV Contemporain competition
[ad_1]
The Victorian government announced the four shortlisted teams that will compete to design a new museum of contemporary art and design for the National Gallery of Victoria.
The Australian-only design competition for NGV Contemporary has issued a call for proposals for a "global architectural landmark that demonstrates the skills and capabilities of the local design industry".
"This design competition offers a tremendous opportunity to support our country's local design and architecture sector," said Tony Ellwood, Director of NGV.
Four shortlisted teams were selected by an international jury for their innovative designs, consideration for sustainability and connection to the place. They are:
Angelo Candalepas and associates: Angelo Candalepas and Associates, Aspect Studios, Carr Interiors, Andy Fergus Design Strategy, BoardGrove Architects, Richard Stampton Architects, Steensen Varming, Mott MacDonald, TTW, Affinity Fire Engineering, Freeman Ryan Design, AX Interactive and Art of Fact
Field: Architects, Edition Office, Durbach Block Jaggers, Openwork, Daniel Browning, Karen Milward, Lovell Chen, WSP, Finding Infinity, Surface Design, Speirs Major and Art Processors
John Wardle Architects: John Wardle Architects, Oculus, Pierce Widera, Searle x Waldron Architecture, Greenshoot Consulting, Hecker Guthrie, Hodyl and Co, Atelier Ten, WSP, Steensen Varming, Fabio Ongarato Design, Phillip Chun, L'Observatoire International and Mott MacDonald
Open weave: Grimshaw, Winwood Mckenzie, Baracco and Wright, McGregor Coxall Australia, Foolscap, Relative Projects, 20-20 Studio, Flux Consultants, AECOM, Eckersley O'Callaghan, 2X4 Inc and Paul Memmott.
Located at 77 Southbank Boulevard, Southbank, the NGV Contemporary project will create 18,000 square meters of public space dedicated to art, design, fashion and architecture of local, national and international significance in the center of the city.
"The new gallery is part of the largest cultural infrastructure project ever in Australia that will be at the heart of Melbourne's reinvented arts district and create thousands of local jobs," said Prime Minister Daniel Andrews. "NGV Contemporary will showcase Australian design excellence to the world and create an extraordinary new gallery for all Victorians. "
The international jury was composed of the Dutch architect Francine Houben of Mecanoo, Xu Tiantian of DnA Architecture in Beijing, the Australian architect Gerard Reinmuth of Terroir, the indigenous artist Maree Clarke as well as the director of NGV Tony Ellwood, of Victorian government architect Jill Garner and architect and administrator of NGV Corbett Lyon.
Shortlisted teams will now move on to the second stage of the competition to further develop their designs. The successful design team will be announced in early 2022.
[ad_2]