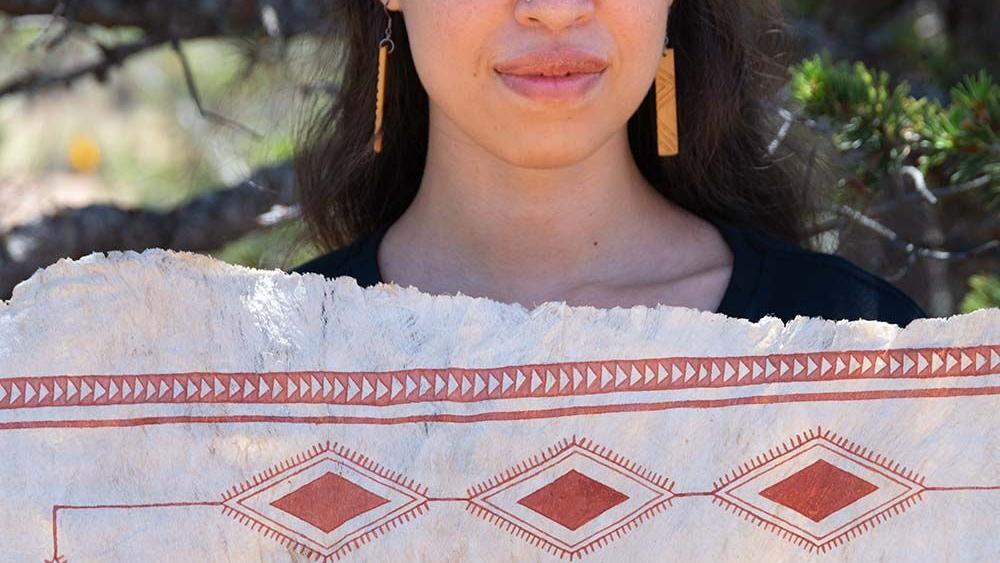 Cultivation Patterns: Lehuauakea Continues Hawaiian Kapa Making Tradition | Art
Cultivation patterns: Lehuauakea continues the tradition of making Hawaiian kapa
The techniques used to make kapa a traditional Hawaiian fiber art result in bold and colorful linear and geometric patterns. Made from fibers of native plants, kapa (or bark cloth) was mainly used for clothing, bedspreads, and banners hung with necklaces and bearing the images of the gods.
Contemporary practitioner Lehuauakea, originally from Papa'ikou in Moku O Keawe, Hawai'i, continues the tradition which they believe (Lehuauakea does not identify as male or female) is a form of storytelling, expressing stories and subjects mythical about history and contemporary themes.
Indigenous artist Dubin Fellow at the School For Advanced Research, Lehuauakea gives a virtual talk about their practice and an ongoing project at SAR (660 Garcia St., 505-954-7200, sarweb.org) at 5:30 p.m. Wednesday, August 11.
Lehuauakea is an interdisciplinary artist who creates 2 and 3 dimensional works and art installations. They create the patterns in their work using bamboo stamps called 'ohe kapala. The designs are intergenerational and represent origin stories, mythologies and environmental relationships.
"Bringing them into my practice allows this visual language to move and change over time, remembering the lifestyles that spawned them in the first place while incorporating contemporary narratives," they say.
The main plant used in kapa is wauke, the paper mulberry. It was used in Hawaii for several functional purposes, but was discontinued as manufactured fabrics became more readily available. Lehuauakea is a member of a group of practitioners who have revived the art form, which is created using handmade tools. The fine white bast (food conductive tissue) of the wauke stems is traditionally soaked for a period of up to 10 days, then the fibers are beaten with mallets, which are also used to create unique embossed surfaces of the kapas. . Hand carved stamps are used to create the designs.
During their scholarship at SAR, Lehuauakea creates a series of hand-stamped kapa ranging in size from 8 by 12 inches to up to 4 feet in length or more.
"By the end of the period, I hope to have a set of contemporary-traditional kapa pieces that tell a cohesive story, addressing the themes of ongoing political tensions, environmental constraints, and cultural perpetuation from the perspective of Kanaka Maoli. "