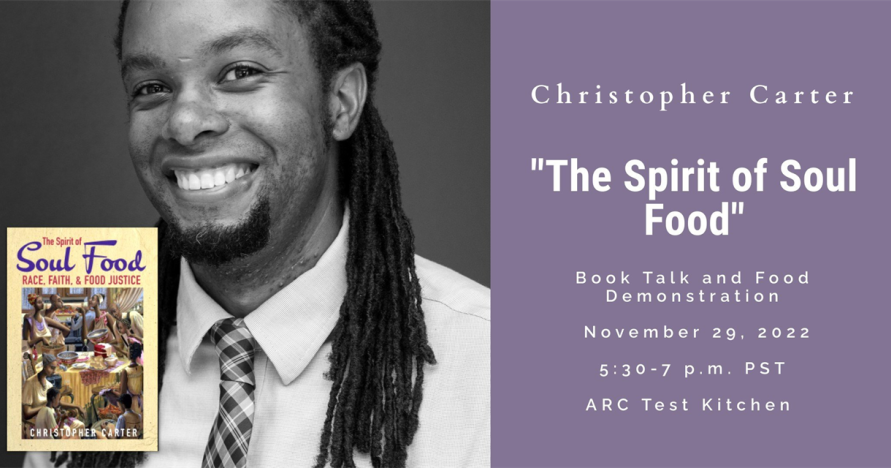 Christopher Carter, "The Spirit of Soul Food": Book Talk and Food Demonstration
by Illuminations: The Chancellor's Arts and Culture Initiative
Tue 29 Nov 2022 | 5:30 p.m. – 7:00 p.m. PST (GMT-8)
Soul food has played a vital role in preserving Black history, community, and culinary genius. It is also a response and a marker of centuries of food injustice. Given the harm our food production system inflicts on black people, what should soul food look like today?
Christopher Carter's answer to this question merges a history of black American eating habits with a Christian ethical response to dietary injustice. Carter reveals how racism and colonialism have long driven the development of American food policy. The very food we grow, distribute and consume disproportionately harms black people in particular and people of color among the world's poor in general. Carter reflects on how people of color can eat in a way that reflects their cultural identity while remaining true to principles of compassion, love, justice, and solidarity with the marginalized.
Meet Christopher and enjoy a meal celebrating the power of soul food, with commentary from Chef Jessica VanRoo.
Christopher Carter is an assistant professor of theology and religious studies at the University of San Diego and a pastor in The United Methodist Church.
Location detail:
Anteater Recreation Center (ARC), Anteater Test Kitchen, 2nd Floor
University of California, Irvine, Irvine, CA 92697, USA