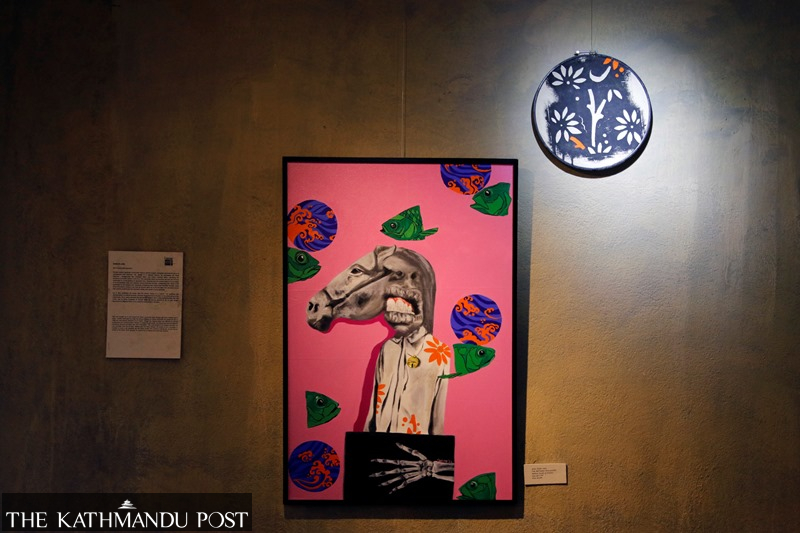 Celebrating the evolution of Nepal's contemporary art scene
One of the paintings featured in the Gallery of Creatives, Thamel, depicts women from the Jyapu community sitting together on grains spread out in a large cloth. Their gathering alongside scattered tiny grains resembles an abstract pattern of black and red concentric circles from a bird's eye view.
If you let your imagination wander into the world of the painting, you might even hear the women laughing and talking in a close-knit Newa neighborhood.
This threaded artwork, titled 'Mandala', is the work of Sofiya Maharjan. The artwork uses the colors black and red distinctly to represent ethnic attire haku patasi women from the Jyapu community, to which Maharjan belongs.
His work is part of the Bikalpa Art Center (BAC) exhibition "Revisiting the Roots in a Modern Nuance".
"When I was told that the theme of the BAC exhibition was revisiting the roots, my immediate intuition was to go to the colors that have long defined the identity of my community. I wanted to play with black and red, the two dominant colors of my childhood memories," says Sofiya Maharjan, visibly excited.
"Being part of an exhibition that also features works by senior artists that I have always admired has been an overwhelming experience. I learned so much by participating in this exhibition, and I am so grateful for the exhibition," added Maharjan, who graduated with a Bachelor of Fine Arts in 2020.
Maharjan, 22, is also the youngest participant in the massive art exhibition organized by Saroj Mahato, who has long dreamed of organizing a large-scale local exhibition.
In 'Revisiting the Roots in a Modern Nuance', Mahato brings together over 46 artists to paint a picture of the country's contemporary art scene while letting artists portray their own ideas of roots through modern art techniques. The works of the 46 artists are spread across four art venues: Gallery of Creatives and Vidroh, both in Thamel, and Bikalpa Art Center and Park Gallery, both in Pulchowk.
"I don't know exactly why, but I've always wanted to put on an exhibition that captures the Nepali contemporary art movement, which started in the early 60s," Mahato said, on a recent afternoon at the Bikalpa Art Center. "Our country's artwork has evolved so much over the past seven decades, and many artists have tried to define the nuances of Nepali art while pursuing a career in art. I wanted to present art from different eras in a harmonized art world and bring a retrospective image of everything that happened in the Nepalese art scene.
What is impressive about "Revisiting the Roots in a Modern Nuance" is that the exhibition was put together with minimal financial resources and relying mainly on collaboration with the artists involved. Every artist and gallery involved contributed in every way possible to make this exhibition a reality.
"I am happy that our exhibition has shown that sometimes all it takes is a strong will to organize an exhibition of this magnitude," Mahato said. "When we think about projects like this, we often focus too much on the financial resources available. But this exhibition shows the team spirit of the community.
Mahato's attempt is also admirable because the exhibition, to some extent, successfully expresses the many issues the featured artists were exploring through art and tells the story of art movements, shifting art scenes to ideas of spirituality, religion and indigenous identity. The exhibition also attempts to convey to viewers how people came to understand art.
In Vidroh, Thamel, the works of artists Kiran Maharjan, Dibeshwar Gurung, Srijan Ulak and Ashin Gurung are displayed, and the works are incredibly different from those in the other art venues in the exhibition. The works of the four artists focus on urban and street art culture and bring elements of street/mural art to their canvases to highlight the alternative urban art movement that evolves alongside the movement. of traditional contemporary art since 2010.
"For urban artists, the exhibition is an opportunity to engage the public with an art scene that started just twelve years ago," said Romel Bhattarai, the founder of Vidroh.
"Events like these are important because they motivate us and force us to challenge ourselves as artists. They give us exposure. They also offer young artists the opportunity to network so that they can spread their works to the world. And so when Saroj came to us with the idea for the exhibition, we said why not," Bhattarai added.
With works by legendary Nepalese senior artists – Lain Singh Bangdel, Ram Nanda Joshi, Manuj Babu Mishra, Indra Pradhan, Birendra Pratap Singh, Shashi Bikram Shah, Batsa Gopal Vaidya – placed alongside those of young and emerging artists, the he exhibition creates an opportunity for viewers to understand the subtle differences between the artistic ideas of various artists. One can also distinctly see that the works of senior artists are influenced by their understanding of religion, spirituality and their need to identify what Nepali art is.
The artworks featured in the exhibition also allow for an apparent transition in how young artists view art and use artistic tools to explore their own identity and relationship to their culture and communities. It is also evident that the younger generation of artists have turned more inward as they explore themselves as artists. These young artists do not hesitate to share what is personal to them, even if it means being vulnerable in front of their public.
One of these young artists in the exhibition is Rupesh Man Singh of the Film Foundry, an arts collective. In his "Still Frames" series, Singh uses black and white printed photos of his late grandfather to express the emptiness he feels when looking at the pictures and how family photographs as art also capture relationships. and their stories.
"Growing up, I lived in a hostel for many years, and every time I came home for vacation, I felt very detached from my family. But when I discovered our photo album family, it became a way to bridge the gap in my relationship with my family. It helped me mend my relationship with my family. That's why I explored family relationships through my work. But in same time, this effort has helped me practice and approach photography differently," Singh said in a phone conversation with the Post.
Like Maharjan, Singh thinks the exhibition has been a fantastic opportunity to understand the Nepalese art scene and the works of many artists he has only read and heard about.
"I think this exhibition is an opportunity for artists and many art students to learn how contemporary art has developed over the years. The representation of the works is massive in this exhibition. You can see the journey of photography, visual and urban arts and grasp the endless possibilities of art in the future," Singh said.
Besides the exhibition of artworks, the organizers also organized workshops and round tables on different artistic issues to make the exhibition more attractive.
"We didn't want the exhibition to be limited to a simple presentation of works of art. We also wanted to engage people in conversations about art, which is vital to growing Nepal's art scene. And I think those engagements have helped us attract more audiences to our galleries," Mahato said.
Next Saturday, the organizing team is also organizing a performance art program of artists like Mahima Singh, Sundar Lama, Ram Mahajan and Dawa Sherpa in Naka Bahi, Patan.
Many artists participating in the exhibition say they are pleasantly surprised by the scale of the event.
"Once various aspects of the exhibition finally came together, I finally realized the magnitude of the event," said Film Foundry artist Singh.
Organizing an event of this magnitude, says Mahato, would not have been possible without the support of the artistic community.
"The outpouring of support from the arts community has been incredible. Since many in the arts community have always wanted to see something similar happen, many have come forward and helped in any way they can. That spirit made the job so much easier," Mahato said, beaming with her gratifying smile.
"And now I just think of all the possibilities if we all make a collective effort. I'm so happy right now!" Mahato said. "Aren't you happy to see this? And now I just want people to come and enjoy the show and then talk about our art history.
"Revisiting Roots in a Modern Shade" will be on display until May 24 at Vidroh and the Gallery of Creatives, both in Thamel, and the Park Gallery and Bikalpa Art Centre, both in Pulchowk.